Interactive Brokers (IBKR) comprehensive offering facilitates access to over 100 market centres in 24 different countries, dealing in stocks, forex, futures, options, ETF, bonds, and CFDs. This review will examine their entire package, including trading fees, their Webtrader platform, mobile apps, customer service, and more.
A Brief History
Thomas Peterffy, chairman and CEO founded the IB group over 40 years ago. In fact, it all started when he purchased a seat on the American Stock Exchange in 1977. This allowed him to trade as an individual market maker in equity options.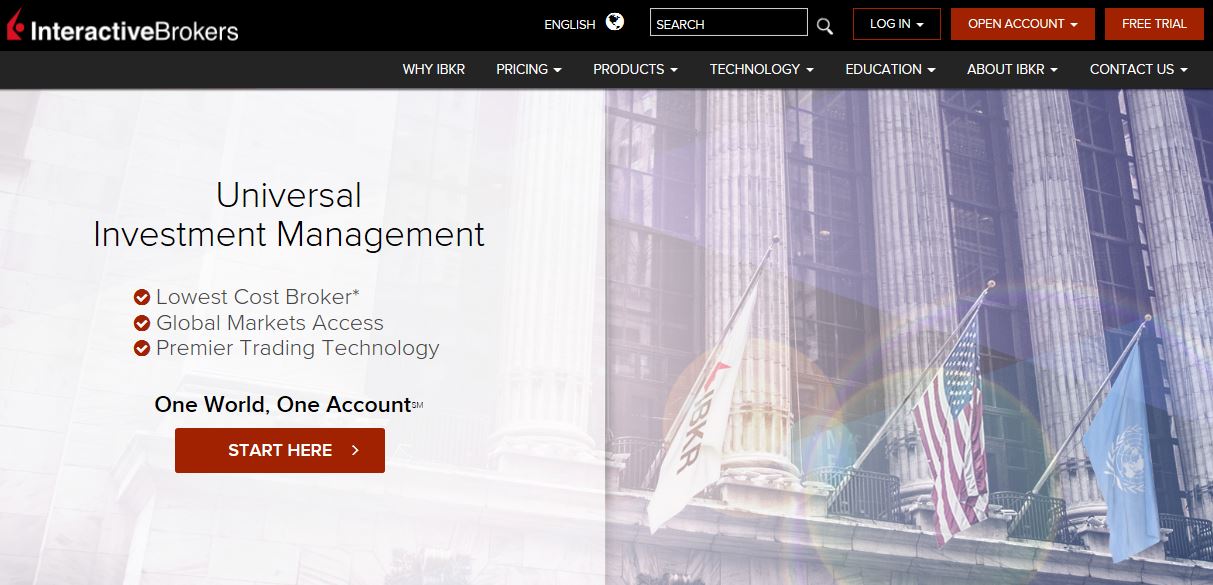 Over the years, IBKR has gone by a number of names, including TP & CO and Timber Hill Inc. However, by 1993 Interactive Brokers Inc had stuck.
Today the company stands as an industry leader in terms of commissions, margin rates, and accessibility for international trading. Its $6 billion in equity capital demonstrates both its success and far-reaching influence.
IB also boasts office locations across the world, including Canada, India, Hong Kong, Japan, and the UK.
Minimum Initial Deposit
Once you have downloaded an account and received your login details, you will need to fund your account before you can start day trading. Individual accounts, Trading Group Masters, and Broker Masters will all require a $10,000 USD deposit.
However, there are certain exceptions to this rule:
If you are aged under 25, you only have to make a $3,000 deposit.
Indian residents and account holders must deposit 100,000 INR.
Non-resident Indians with an IB India account must deposit 500,000 INR.
Indian residents with an IB US account and IRAs must make a $5,000 deposit.
Overall, this minimum pricing is higher than the industry standard. As a result, beginners with limited personal capital may be deterred.
Spreads & Commissions
In terms of cost reviews, forex spreads and other such fees at Interactive are competitive. This is because the bulk of the brand's clients are professional traders and institutions. So, providing low commission rates is essential.
You can expect a low, fixed commission rate of $0.005 with a $1.00 minimum on all products and comparable rates. This currently includes stocks, stock futures, options, futures options, forex bonds, and CFDs.
European clients can also opt for a fixed-rate commission of 3 EUR/GBP for any trades under 6,000 EUR/GBP in value, above which the rate becomes 0.005%.
Note, Interactive also partnered with Toggle AI in 2022 to offer a reimbursement plan. The broker will return trading fees on a monthly basis. Commissions are awarded up to the dollar value of client subscriptions. New customers can also qualify for low options commissions at $0.50 per contract.
Leverage
In terms of leverage, IBKR also ranks highly vs eTrade, Thinkorswim, Tradestation, Oanda, Scottrade, and other competitors. In fact, initial margin rates can be anywhere from 1.41% to 1.91% for those who hold accounts of over $1 million.
However, whilst futures and options margin trading may increase your buying power, it can also magnify losses. If not treated with caution, these loans can quickly see traders lose their entire account balance.
Other Trading Fees
IB impose an exposure fee on a minority of high-risk margin customers. This is to compensate for servicing such risky accounts. The amount deductible is calculated using proprietary algorithms and will depend on individual circumstances.
Trading Platform
The core appeal for many is the Trader Workstation (TWS). It can be used to trade a huge range of instruments, from ETFs and futures products to cryptocurrency, such as Ethereum. It is available for Mac, Windows, and Linux users.
Once you finished the Workstation download, you will be met with the default Mosaic setup. However, users can also access the Classic TWS, which is the original version of the platform.
You get all the essential functionality. So, backtesting and setting trailing stop limits come as standard. Earnings calendars can also be accessed with ease.
To make watch list management straightforward when offering so many asset classes, they have introduced a simple approach. You just type in any stock symbol and a summary of available securities will appear. Your watch lists can then include a variety of everything. In fact, you can have up to 338 different columns. So, in terms of customisability, IB are leading the way with their proprietary platform.
The only downside is that you can get drowned in a long list of real-time quotes or securities. For example, type in AAPL for Apple and you have to wade through a number of possible matches.
Charting
In terms of charting, the platforms perform fairly well. You have 124 different studies available to be added to any chart. However, TradeStation offers 270 and TD Ameritrade promise 370. Another drawback comes in just eight tools available for markups. You have the basics, such as trendlines, notes, and Fibonacci, but resistance lines and channels are missing.
Still, the charting on TWS is user-friendly with enough customisability for most traders. Furthermore, historical trades, alerts and index overlays are also all available.
Other Features
You will also benefit from an impressive 63 different order types.
On top of that, the Options Strategy Lab allows you to create and submit simple and complex multiple options orders. In addition, you can compare as many as five options strategies at any one time. Volatility Lab and Algo trading are all available in the TWS.
The Mutual Fund/ETD Replicator also deserves a mention. This helps you locate lower cost ETF alternatives to mutual funds. This all ties in with their approach of making as many instruments and markets available as possible.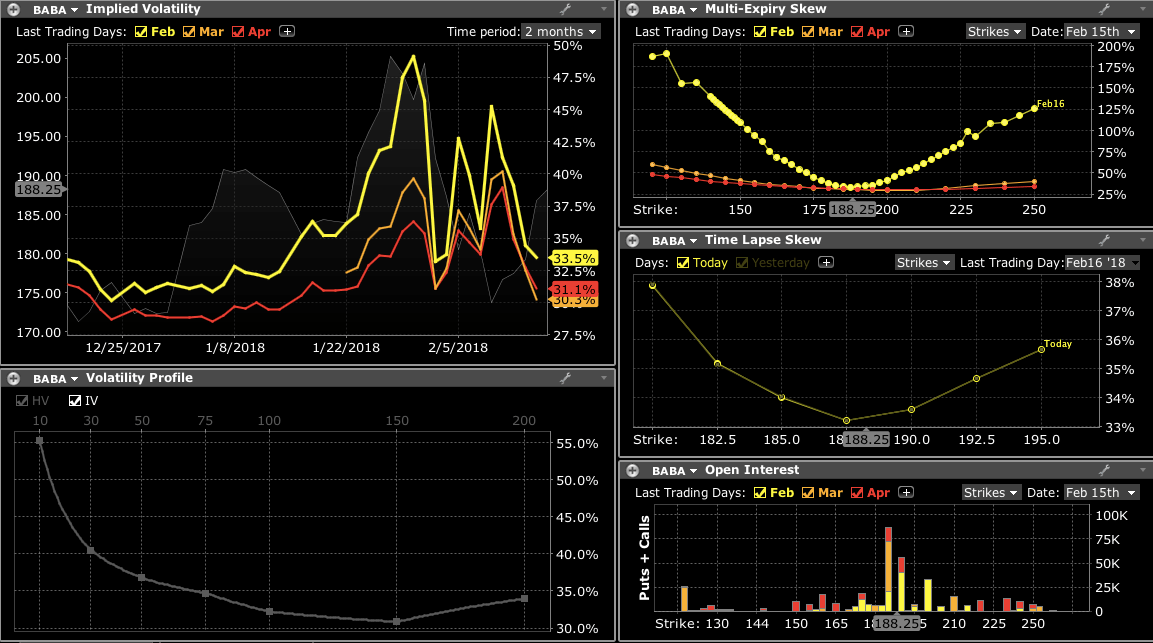 MetaTrader Compatibility
IBKR do not actively support the MetaTrader 4 or 5 platforms. As you can imagine, they want to promote the download of their bespoke TWS platform, so you won't get too much assistance from them on how to integrate your MetaTrader software with their offering. Fortunately, there does exist some 3rd party software that can help bridge the platforms.
TWS Verdict
Overall, for advanced traders this trading platform is a sensible choice. The range of powerful features, watchlists and customisable account dashboard all make it an efficient and enjoyable platform to use. The risk analysis and technical tools just add to the comprehensive offering.
Beginners, however, may be overwhelmed by the Trader Workstation. Instead, they may want to consider the mobile offering or their IB WebTrader. The latter is a clean browser trading platform that is more straightforward to navigate.
Mobile Apps
IB provide iPhone and Android apps. Their apps are also compatible with tablets. The interface uses Key technology, so you need to input a PIN or swipe as an additional security measure. Two-factor login with Touch ID is supported, but a secondary key app is needed, instead of just Touch ID logging into the actual app as you load it.
Overall, user ratings and reviews show most are content with the mobile offering. You are given everything you need to trade with ease including:
Alerts
Scanners
Newsfeeds
Stop losses
Watchlists
Order history
Historical tick data
Portfolio management
Full-featured order entry
Fast live data and quotes
In addition, balances, margins and market values are easy to get a hold of. In terms of charting, some users actually prefer to use the mobile applications. You get the same choice of indicators, but with a cleaner interface. The downside to the charting capabilities is that even with 68 different optional studies, the charts are not flexible.
Unfortunately, there also a number of other drawbacks. You do not get access to complex tools or venue-specific interfaces, such as FX Trader. Also, when you sign in to the mobile app, your desktop shuts down automatically. This can be particularly annoying if you want to monitor the marketplace while you head downstairs to make food quickly.
In addition, placing sophisticated order types can prove challenging. You also cannot customise the home screen or stream live TV. Furthermore, you can only set basic stock alerts without push notifications
So, overall the mobile applications adequately supplement the desktop-based version. In fact, custom screening and after-hours charting are two features few in the industry offer in their mobile applications. However, as iPad app reviews highlight, applications are not comprehensive and are perhaps best used only to support desktop trading.
Methods of Payment
There are two types of deposit methods. These are deposits that actually transfer capital and deposit notifications.
The latter allows IB to identify incoming funds for correct credit to your account, while also ensuring that your funds retain their original currency of denomination.
Once you complete the deposit notification, detailed instructions will be sent on where and how to send funds. Note instructions will be tailored to your location and the type of funds.
A deposit notification will not move your capital. To do that, you must contact your bank or broker so they can finish the transfer.
IB accept wire and SEPA (Single Euro Payments Area) as withdrawal methods. A wire transfer fee may be applied by your bank. Wire instructions will be emailed when you open an account.
With a secure login system, there are withdrawal limits to be aware of. For example, you are limited to a maximum withdrawal of $50,000 per day, plus a maximum total withdrawal of $100,000 within five business days.
There will be no charge for the first withdrawal of each calendar month. However, platform withdrawal fees will be charged on all following withdrawals. The amount will depend on your location but it is currently around €8.
If you want to receive funds into your account in an alternative currency than your base currency, conversion rates are the same as the forex trading conversion rates.
Finally, there are also the capabilities to pay by Debit cards, Credit cards and Mastercard.
Account Types
There are multiple account types available at IB, including:
Cash accounts – These can be used only to enter long securities positions, long option positions and covered short positions.
Margin accounts – You can purchase a security on margin. This means you can short security positions, futures positions and naked options positions.
Portfolio margin accounts – These allow you to take the same positions as normal margin accounts. However, they use an alternative method for calculating margin requirements. Often these requirements ensure users can benefit from greater leverage, but you will need a minimum account balance of $100,000. On top of that, foreign accounts may not be eligible, so international trading is limited with this account type.
There is also a Universal Account option. Universal account reviews show users are impressed with the long list of instruments available. They also like that you can trade around the world, ensuring you don't have to open different accounts in Canada, Australia, India, or Singapore, for example.
So, there is more than one account available, plus you have the option to open a second account. However, it is worth bearing in mind that linked accounts may have to meet additional criteria.
Demo Accounts
You also get access to a practice account / demo account. This free trial allows for unlimited simulated trading where you won't have to risk real capital. Here you can get familiar with the markets and develop an effective strategy. It's also a fantastic way to test drive their trading platform.
Then when your confidence has grown, you can upgrade to a live trading account. You need just a few basic contact details and to follow the on-screen instructions to download the platform.
Demo account reviews have been very positive. Once you have signed in, you will find access to a multitude of trading tools and financial instruments, while customising the interface is quick and easy.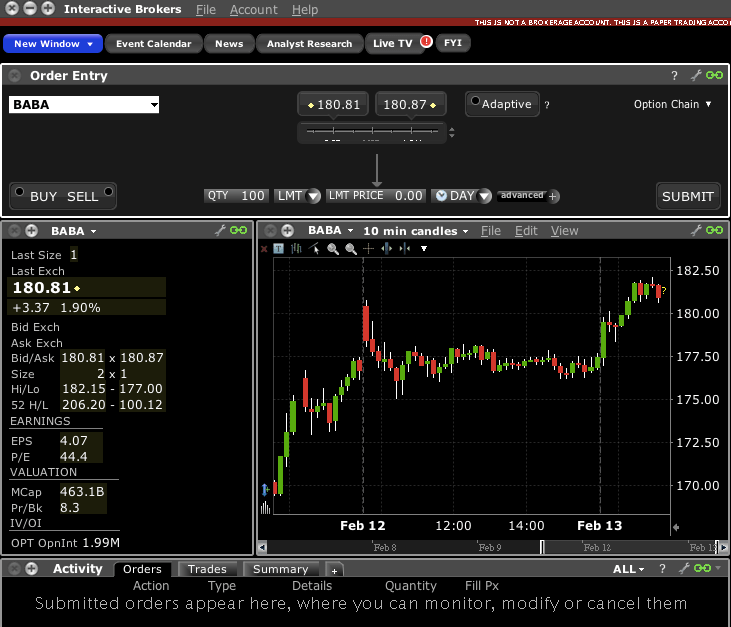 Additional Features
On top of the standard features covered above, there are also a number of useful additional services that make up the Interactive offering. Some of the most beneficial include:
iBot – This is a text and voice-based trading interface. It has a solid grasp of basic English commands. The add-on is available for both desktop and mobile TWS applications.
WebTrader – This is a web-based trading platform. It offers many of the same features and functions as the current desktop version. You also get an intuitive interface. Security is guaranteed with a firewall, as well as a number of other security protocols.
Risk Navigator – This offers a comprehensive portfolio risk management platform. One obvious benefit is that it is straightforward to identify hidden exposures. A number of reports use real-time data to offer a current risk summary from a range of perspectives.
Mosaic Market Scanner – This simply scans markets in line with customisable numerical criteria.
Probability Lab – This can be used to decipher the options markets.
Zacks Research – Via the TWS interface, you get access to Zacks Research. There you will find high-quality research, analysis and recommendations.
Traders' Insight – This useful tool provides daily articles via email subscriptions or straightforward website access. The information can help users make informed trade decisions.
Social Sentiment – This facilitates access to a number of website ticker discussions and commentary. All of which can help to paint a clearer picture of where price may be heading.
So, there are a number of fantastic extras traders can get their hands on. However, some of the above may require an additional payment, depending on the account type you hold.
Regulation & License
Before funding a day trading brokerage account for the first time, it's key you check the broker is properly regulated. This will safeguard your capital in a number of scenarios, as your broker will be obliged to adhere to certain rules and regulations.
With that said, IBKR LLC is regulated by the Securities and Exchange Commission, the Financial Industry Regulatory Authority, the New York Stock Exchange, and the Financial Conduct Authority. It is also overseen by a number of other regulatory bodies around the world.
Benefits
There are a number of reasons this brand stands out amongst its competitors. These include:
No account inactivity fees.
They offer a free demo account.
Commission reimbursement with Toggle AI.
You can choose from a long list of order types.
You get access to powerful and reliable mobile applications.
Competitive pricing, as demonstrated by forex spreads reviews.
You have a reliable real-time market data feed, that rarely goes offline.
Users benefit from competitive commissions and margin rates, plus fixed tiered pricing.
Direct market access, including to the FTSE 100 index, the Cac 40 and Germany's DAX 40.
They are highly accessible, whether you're from the USA, Europe, Australia, New Zealand or Singapore.
Charts and data feed reviews and ratings are very positive. Users get both choice and in-depth customisation.
The high-quality API Python supports algorithmic strategies and automated trading. Note Python API tutorials are easy to find online.
Interactive Brokers promise extremely fast execution speeds as a result of sophisticated order routing technology.
You can trade from multiple account types, such as IRA, single registered, Joint.
The Trader Workstation trading platform is robust and comes with a whole range of tools.
You have a huge range of markets and instruments to choose from, including penny stocks, foreign stocks plus spot gold and gold futures. You can also buy in bitcoin (BTC) and bitcoin futures.
There is a comprehensive education and research centre, with a number of videos, webinars, and tutorials to help you get to grips with the software.
Requirements for setting up new accounts are low, plus there are occasionally bonus promotions to attract new users.
Drawbacks
Despite the number of benefits mentioned above, there are also several serious downsides to using IB. These include:
You can expect a high minimum despite to open an account.
Whilst day trading on margin can boost profits, it can also amplify losses if not used carefully.
The customer service is poor. If the website goes down or you have an account query, you may be waiting a while.
Due to the pricing structure, this firm can be more expensive for aggressive traders who trade over $100,000 shares a day.
The TWS platform falls short in terms of technical charting.
Although they do offer dozens of analytical and research tools, some users may choose to use third-party products that can more efficiently organise the information needed.
Trading Hours
Trading hours are fairly industry standard, depending on which instrument you choose to trade. Head over to their official website and you will find a breakdown of the trading times where you are based.
In addition, extended and after-hours trading is also available. This ensures traders with limited time or those on inflexible schedules will still have the opportunity to capitalise on market conditions.
Contact & Customer Support
As touched upon above, the company fall short in terms of customer support. While it is true they offer a live help chat, a telephone line and email support, user reviews show all are fairly poor.
Telephone
If you have any security issues, such as resets or security tokens, you must use their contact telephone number, which can be found on their website. There is phone access 24 hours a day, however, the service shifts to foreign venues overnight, making contact more difficult.
Live Chat
You can expect industry standard wait times to get through on live chat, plus the occasional outage.
Having said that, it must be stressed that it isn't all bad news. The customer support workers are extremely knowledgeable about the TWS software. In addition, they can walk you through all of their products. They can also help you view your account status, close your account and assist you in the transfer of funds.
Chat Room
Fortunately, chat rooms and forum personnel are relatively quick to respond and helpful. They can inform you of new account promotions, as well as instructing you on how to upgrade to a margin account. You will also be pointed towards useful research and user guides. Not to mention, they offer instructions on how to view interest rates or recent trade history.
Verdict on Support
Overall, there is a number of straightforward means of contacting IB. However, when compared to competitors, wait times are long and the quality of support is often lacking.
Having said that, customer service reviews show support workers do have relatively strong technical knowledge. Therefore, they can help you with error codes, forgotten passwords and a number of issues if your account is not working.
But if you're looking for fast and reliable customer service, you may want to look elsewhere.
Safety & Security
As exchanges go, you get a high level of security and protection. This is a result of their two-factor authentication.
Firstly, you will need your username and password. Account login then requires a physical token. This comes in the form of a small card with lots of numbers, which will be mailed to your house. You will have to activate this and use it each time you log in.
In addition, you can opt for connections to be encrypted with standard SSL encryption.
Admittedly, keeping track of the physical token and using it each time can feel a bit of a chore. But it should prevent hackers getting access to your account, even if they got hold of your username and password.
Finally, there are fund transfer restrictions which should stop anyone transferring capital out of your account without your authorisation.
IB Final Verdict
There is no avoiding the fact that IB comes with a staggering $10,000 minimum deposit and a fairly poor customer support offering. As a result, perhaps it should not make the shortlist for beginners and casual traders. Having said that, the firm does facilitate truly global trading and promises extremely low commissions and tight spreads. Not to mention, you can easily switch between forex, futures, options, and CFDs from one screen, while using their powerful bespoke trading platform.
Overall then, IB is arguably best suited to experienced traders with substantial capital.
Accepted Countries
Interactive Brokers only accepts traders from United States, Canada, United Kingdom.