Since the inception of the internet, a number of banking services, as well as activities, can be transacted or accessed on an online platform. This also applies to the numerous forms of trading as well as investment. Saxo Bank is one such institution that made this move by offering online services to customers. Clients of this Danish-based bank can access Saxo Bank trading on their Internet-connected devices among other investment services offered.
Company Details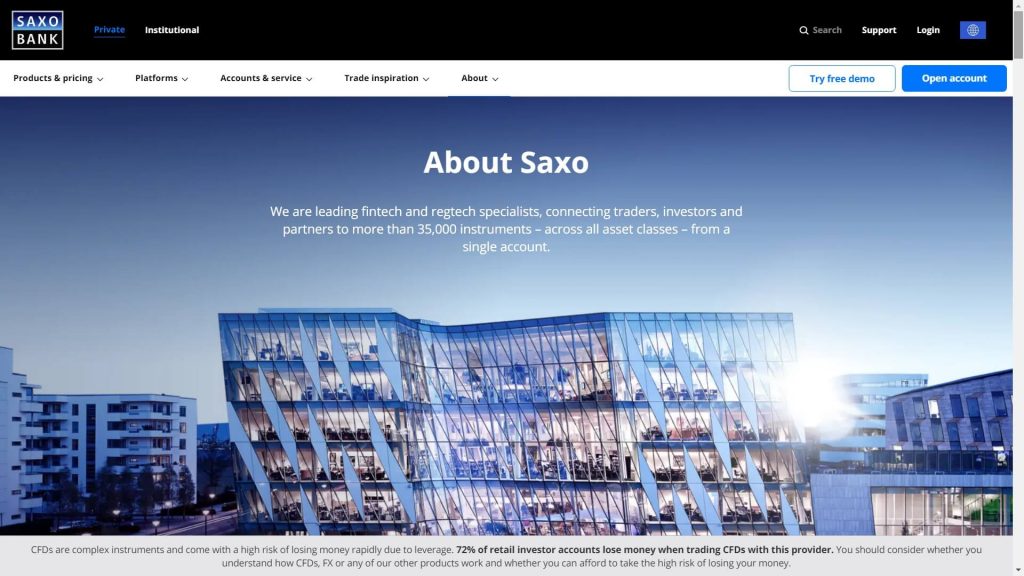 Saxo Bank was established in the year 1992 as a privately owned company. The headquarters of the bank is in Copenhagen, Denmark and it has managed to set itself apart to become one of the leading retail brokerage innovators in Europe.
The safety of trading at the bank is assured by the 10+ financial regulators including the UK FCA. The bank among the leading retail brokerage innovators in Europe as well as on the globe.
Trading Platform
The trading platform offers users a variety of instruments and asset classes that span across global financial markets.
The SaxoTrader suite runs on a myriad of devices and operating systems including Windows on desktops. The mobile suite runs on iOS, Android, and Blackberry among others and is referred to as SaxoTrader GO.
Saxo bank features a very unique and highly engaging web trading platform for accessing its asset classes. It entails a one-step login process upon loading the program.
However, for the Platinum and VIP accounts, there is an IP address link for login that is more secure. Though it might appear complex, it features an easy-to-follow menu that makes navigation through it convenient.
Assets / Markets
The well-designed Saxo Bank trading platform features a diverse product portfolio of markets that are available to trade.
Including:
Forex
Bonds
Equities
ETFs
Mutual Funds
Options
Futures
CFDs (Depending on region)
Cryptos
In the forex domain, there are more than 100 major and minor currency pairs that can be traded. Crypto derivatives on Bitcoin, Litecoin and Ethereum are also offered against fiat currencies such as USD, EUR and JPY.
Featuring over 5,000 bonds with 3,400 developed-market and 1,600 emerging marketing bonds, the Saxo Bank bond trading platform provides users with an interesting asset class to trade in. In addition, users can gain access to government bonds in over 40 countries.
Corporate bonds, though available, are limited to 7 countries.
Spreads & Commission
The trading fees are quite high. For example, the US stock trading of $15 is the highest among the more renowned brokers. The trading fees of forex, equity and CFD are average. The future, bond and option fees are quite high when trading in lower volumes.
Saxo Bank commissions are predominantly volume based. For instance, forex fees are usually based on a volume plan where the more you trade, the less commission you pay. The standard commission is 0.005% but this is only applicable to the first $50 million trading in a month.
Leverage
Forex is normally traded on margins, with each brokerage firm having its own leverage. Specifically, Saxo Bank leverage terms are based on a tiered margin methodology.
This entails a management mechanism against political and economic scenarios that may make the market volatile, leading to sudden changes. Saxo Bank has a maximum leverage of 1:30 which is in line with other regulated brokers in the European Union.
Mobile Apps
The Saxo bank mobile app is remarkable since it has the same outlay and design workability as its web-based platform. Despite the absence of basic data and Saxo Select, it is still highly usable. The Saxo Trader app can be downloaded from Google Play for Android systems and from the iOS store for Apple devices.

Payment Methods
Bank transfers take between 1 to 5 business days. The majority of European clients are required to transfer to a Saxo Danish account which necessitates an international bank transfer. Via the credit/debit card method, money is credited to the traders' account instantly.
However, this is subject to a charge of 0.5-2.5% by your card operator. Stock transfers take place through the transfer of a stock portfolio. This might take a little longer since it must be processed by your current portfolio holder.
Saxo Bank withdrawal can be done to your bank account or a broker account. The account needs to be in your name. Withdrawal is free of charge.
Minimum Deposits
Minimum deposits vary based on currency:
Denmark             No minimum
United Kingdom 500 GBP
Singapore            3,000 SGD
Malaysia              3,000 SGD
Australia              3,000 AUD
China                     2,000
Hong Kong          2,000
Norway                No minimum
France                  2,000 EUR
Netherlands       2,000 EUR
United Emirates 10,000 USD
Czech Republic  10,000 USD
Poland                  10,000 USD
Slovakia                10,000 USD
Demo Account
An instant demo account offers traders the chance to view the platform and check functionality. A full demo account is then also offered alongside a real account, and this enables strategy testing and refinement.
Offers And Promotions
Research materials are accessible from both the web and desktop trading platforms. Saxo additionally runs a separate page known as tradingfloor.com where traders can get more information on market statistics. The content available includes equity research, news, opinions from Saxo's strategists, trade signals, and macro events calendar.
Bonus
While there is no active bonus a present, the presence of competitive spreads on the various asset classes makes this almost negligible. This is significant to forex trading since it is commission based.
Moreover, an overview of the trade-related costs for any trade portrays Saxo Bank as midrange among other brokers. Bonus features are usually not available in market trading since such enticements cause over trading and are frowned on by regulators.
Regulation And Licensing
Saxo Bank is regulated globally by more than 10 financial regulators and is a highly reputable brokerage company in Europe:
Saxo Capital Markets UK Limited is authorised and regulated by the Financial Conduct Authority (Firm reference number 551422).
BG SAXO Società di Intermediazione Mobiliare S.p.A. is licensed by Italian Market Authority – Consob (Albo SIM – Registration Number: 296).
Saxo Bank A/S Czech Republic is registered by the Czech National Bank (Registration Number: 28949587).
Saxo Bank A/S Netherlands is registered by the Bank of the Netherlands (Registration Number: 34357130).
Saxo Capital Markets Pte. Ltd. Singapore is licensed as a Capital Market Services provider and an Exempt Financial Advisor, and is supervised by the Monetary Authority of Singapore (Co. Registration Number: 200601141M).
Saxo Bank (Switzerland) Ltd. (UID-Register Number CHE-106.787.764) is a licensed bank regulated by the Swiss Financial Market Supervisory Authority FINMA.
Saxo Banque (France) SAS is licensed as a Credit Institution by the Bank of France (Registration Number: 483632501 R.C.S. Paris).
Saxo Bank A/S is licensed by the Danish Financial Supervisory Authority and operates in the UAE under a representative office license issued by the Central Bank of the UAE.
Saxo Bank – Representative Office is licensed by the Central Bank of the U.A.E. as a Representative Office (Registration number: 2017/995/13).
Saxo Bank Securities Ltd. is licensed by the Japanese Financial Services Agency (Registration Number: 239).
Saxo Capital Markets Hong Kong Ltd. is licensed by the Securities and Futures Commission in Hong Kong (Registration Number 1395901).
Saxo Capital Markets (Australia) Pty. Ltd is licensed by the Australian Securities and Investments Commission (ASIC) (Registration Number: 126 373 859).
Additional Features
Investors willing to expand their knowledge on trading markets can be readily assisted by the education section of the platform. It features online webinars where traders can be taken through asset classes by trading experts.
Alternatively, one can become a "learner" at the Saxo Academy and choose from the infinite online tutorials available.
Account Types
Saxo has four main types of accounts namely Classic, Premium, Platinum, and VIP. The accounts differ on the amount of funding.
The Classic account requires the standard minimum deposit which varies by country, Premium accounts need a minimum of $100,000, Platinum accounts a minimum of $500,000 and the VIP account a minimum of $1,000.000.
With a Premium account, traders gain access to free extended news and research material. For the Platinum and VIP accounts, investors have advanced customer service, logins that are IP address linked, thus more secure and tighter spreads.

Benefits
Saxo Bank has established itself as a leading brokerage innovator. Some of the features include exemplary research services comprising a dedicated research team that continuously provides new trading ideas.
A well-detailed platform that enables traders to execute their ideas. A diverse product portfolio that facilitates heavy traders. Additionally, a customer service that is present in multiple languages.
Drawbacks
Saxo has some limitations which might be a hindrance to effective trading. For funding requirements, a minimum of $2,000 is needed which might end up being a burden to investors. Small traders' returns can be impacted upon by the high trading fees. The broker's financing fees are among the highest in the market.
Saxo Bank Trading Hours
The platform is open for trading 24 hours a day albeit 6 days a week. Various currency pairs have specific trading hours. For instance, the RON, ILS, SAR & AED and RUB currencies trading hours are 08:15 – 17:00 CET, 07:00 – 17:00 CET, 07:00 – 15:00 CET and 07:00 GMT – 19:00 GMT respectively.
Contact Details Or Customer Support
Reception: +61 2 8267 9000
Fax: +65 6303 7808
Website: www.home.saxo/au
Safety And Security
Saxo's web-based platform features high-security components since traders' vital documents are required when opening an account. They include a copy of an ID, passport or driver's license. The login steps to some account types are enhanced to protect user data. A case in point is the Platinum and VIP accounts which have an IP address link for secure login.
Saxo Bank Overall Verdict
This review is aimed at giving a detailed description of Saxo Bank as a brokerage company. The bank provides complex and conducive services through its trading platform. The research and customer service team are always available to offer any assistance to traders.
Moreover, its diverse product portfolio comprising of asset classes and international markets assures heavy traders of an enticing trading arena. Despite requiring high minimum trading fees, it is a good brokerage company in terms of service delivery and it stands atop the global scene.
Accepted Countries
Saxo Bank accepts traders from Australia, Thailand, Canada, United Kingdom, Singapore, Hong Kong, Germany, Norway, Sweden, Italy, Denmark, United Arab Emirates, Saudi Arabia, Kuwait, Luxembourg, Qatar and most other countries.
Traders can not use Saxo Bank from United States, India, South Africa, Nigeria, Brazil, Pakistan, Spain, Portugal, Mexico, Kenya.